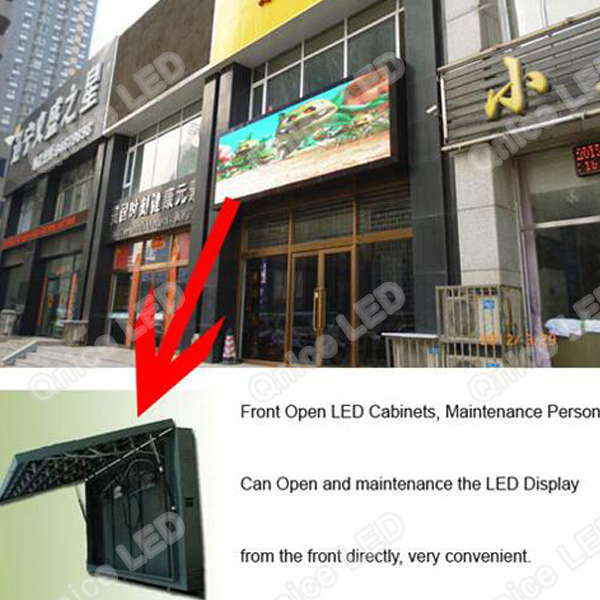 Front Open Front Maintenance LED Screen
Pixel Pitch: 2.5mm/3mm/4mm/5mm/6mm/8mm/10mm
Cabinet Size: Custom size
Cabinet weight: 45KG/sqm
Application: Indoor and Outdoor Advertising
Material : Iron/Aluminum(Optional)
Features
Specs
Application
Inquiry
Front Open Front Maintenance LED Screen
1) Easy to install: No need to do structure, can directly mounted the LED Display on the wall with steel connection plates and screws.
2) Easy to Maintenance: The LED Cabinets can be open from the front, maintenance person is easy to open and maintenance the LED Display from the front.
3) SMD 3-in-1 LEDs ensure seamless and flatness, wide viewing angle, nice video effect.
4) Support all formats of videos, graphics, images, texts, messages, flash, animation, etc.
5) High brightness and the brightness can be adjustable according to the surrounding environments.
6) Support PC online or offline control, also can be remote control with Asynchronous system, wifi control, 3G control.
7) Suitable for both Indoor and Outdoor LED Display
8) Suitable models: P2.5, P3, P4, P5, P6, P8, P10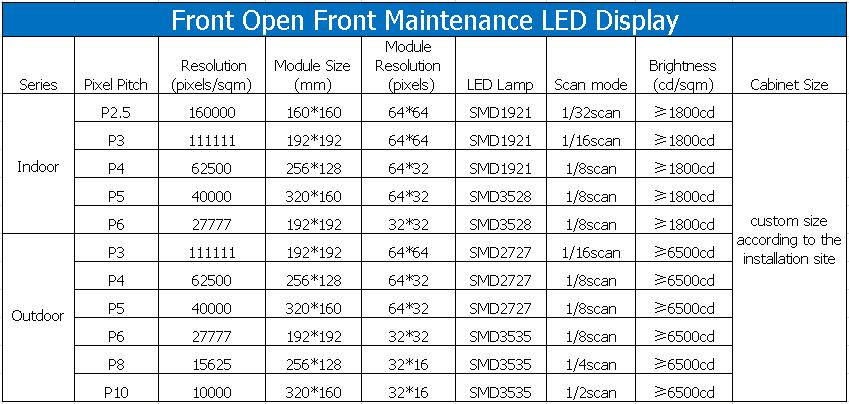 Application:
Mainly used for indoor and outdoor stores, church, school, bank, hotel, hospital, restaurant, company, commercial building, airport, station, roadside advertising, etc.
Key words :
Browse similar products

LED Products

Project Case

Contact Us
Tell:+86 0755 23290535
Fax: +86 0755 23290535
E-mail: info@qniceled.com
Address: Qnice Industrial Park,WaiHuan Road, ShiLongZai.ShiYan, XiXiang Town, BaoAn, ShenZhen.China